You never know where you're going to find the next great wine. That's why we're in constant motion—exploring vineyards around the world and bringing the best quality wines back to Minnesota.
It started with Fritzi Haskell touring the wine houses of Bordeaux in the 1930s, and her pioneering spirit continues to fuel our own travels today. Just this past November, in France, I attended my 43rd Hospices de Beaune auction and secured some absolutely incredible wines.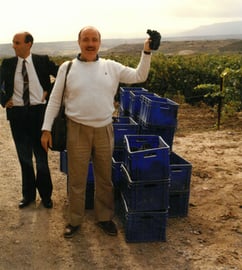 Jack Farrell in the Piedmont region of northern Italy, holding Nebbiolo grapes (1990)
It's amazing to me that no one else travels as we do. There's simply no substitute for shaking the winemaker's hand, seeing grapes on the vine, feeling the soil, and tasting a wine where it was created. That's how we know they're the best quality wines for the money, and sometimes, we discover hidden gems that are only known to locals.
Big, national wine stores don't have the luxury of offering these amazing, lesser-known wines, because they are forced to buy massive quantities, and they are often unwilling to take a risk on unproven sellers.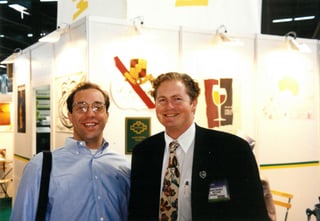 Ted Farrell in Australia with Cester Osborne of d'Arenberg (1992)
That's not Haskell's. When we discover a quality wine, we bring home whatever quantity we can. The reward of introducing a new wine is always worth the risk. We didn't know if the Minnesota wine community would embrace Chilean wines, but we knew there were incredible offerings to be had. So, as soon as Pinochet was ousted from power, we were exploring the vineyards of Chile. Now, of course, everybody is talking about Chilean wines, like those from Caliterra; they're affordable and simply delicious.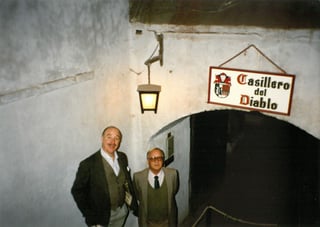 Jack Farrell connecting with winemakers in Chile (late 1980's)
Sometimes wines have to be rediscovered, like the Hungarian/Slovakian wine Tokaji. While 19th century monarchs always kept a bottle on their nightstands for its perceived "amorous" qualities, it completely disappeared from the market during Communist rule. I was scouring Eastern Europe for new wines around the time the USSR collapsed and was able to import the first bottles of this sweet wine to the US since WWII. A bottle of Tokaji might be just what you need on your own nightstand.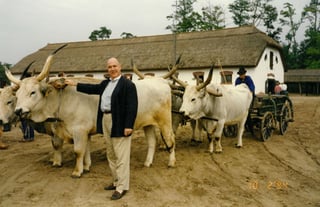 Jack Farrell exploring Eastern Europe in search of new wines; seen here in Hungary (1994)
We're lucky. Our passion for wine takes us around the world, doing what we love: from South America to Australia and New Zealand, all across Europe and throughout the United States. It's our absolute pleasure to share the fruits of our travels with you. Come explore our unmatched selection of 23,000 wines; you'll be amazed at what you can discover.