In an age when wine lists simply offered red or white, a time ruled by jazz and gin fizzes, there was Fritzi Haskell. She introduced Minnesota to the world of wine and established a legacy stretching 81 years.
Haskell's Wine & Spirits officially opened for business in 1934, directly following the end of prohibition. While it may have been the first time the name Haskell was printed on the window, the name was already known within affluent circles of underground Minneapolis tipplers. Former boxer turned bootlegger Benny Haskell had top-shelf liquors and champagne, while the other guys were slinging bathtub gin. Running a secret-knock operation on the seventh floor of the old Radisson hotel, Benny catered to the Minneapolis elite. Even during prohibition, Haskell's would happily deliver, if in a slightly different way than today.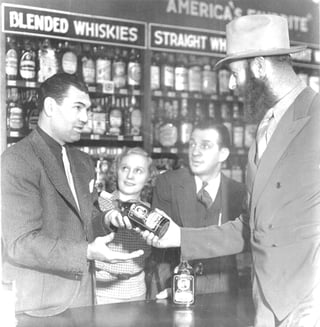 Jack Dempsey, Fritzi and Benny Haskell, Haystack Muldoon (c. 1935)
Every two weeks, one of Minneapolis' leading citizens would drive down to Loring Park with his children and his brother. Handing the chauffeur a bag of bread crumbs, he would send the children down to feed the ducks. Along comes an attractive young lady pushing a pram-style baby stroller. In the pram, an 18-year old…scotch. Two cases for the trunk, and one bottle for the brothers to enjoy. With a wink, Benny's wife, Fritzi, would slip away with her stroller downtown.
While Benny focused on the liquor business, Fritzi was drawn to the Bordeaux region of France. Fluent in French, Fritzi quickly befriended top winemakers: sampling, studying and making arrangements for life after prohibition. When the 18th amendment was finally repealed, the very first container of French wine to hit the dock bypassed New York and Chicago on its way to the newly opened Haskell's Wine & Spirits on 7th Street, in Minneapolis.
Fritzi Haskell emerged as the champion of wine in Minnesota. Due to Benny's bootlegging past, the liquor license was put in her name, and she proved to be much more than a figurehead. At a time when many women didn't work, Fritzi's indomitable presence, business sense and knowledge of wine made the name Haskell's synonymous with wine. She established a worldwide reputation: traveling the globe, discovering vineyards, scouting the finest vintages and bringing them back to 7th Street. Fritzi gave Minnesotans access to wines unobtainable anywhere else in the nation.
For 36 years, Fritzi was a fixture of the Minnesota wine community, infectiously spreading her passion for wine, creating wine connoisseurs out of the whiskey and beer public. In 1970, Fritzi passed her namesake shop to me, Jack Farrell, and I was thrilled to carry on the name Haskell's. Fritzi even stayed onboard for two years to see that I didn't mess it all up and ensure her high standards would always be met.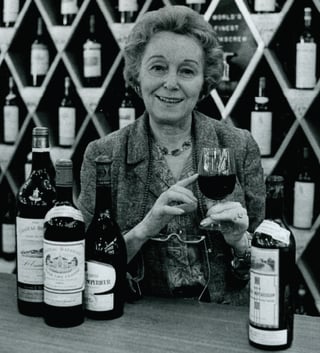 Fritzi Haskell (1970)
Fritzi's legacy continues to guide everything we do at Haskell's. We've adopted her pioneering spirit, touring the world to discover new wines and bring them back to Minnesota. We're constantly adding exciting new labels to our unmatched selection of over 23,000 wines; even Fritzi would be impressed with our 2,500+ French wines. And of course, we still deliver…just not in a baby stroller.