Sin

ce 1934, Haskell's has been Minnesota's destination for wine. So how did Texas-based B-29s on their way to bomb Japan end up with $5,000 of Haskell's whiskey hidden in their airframes? It starts with Armand Crump.
In 1945, 2nd Lieutenant Armand Crump was stationed at Biggs Army Airfield in El Paso, Texas, assigned to ready a fleet of 16 B-29 bombers headed for war in the Pacific. Word had come from the front that alcohol was in short supply, so they decided to do the boys a favor and go on the war's biggest liquor run. With a collected $5,000 stuffed in bags, they set out in search of liquor. No matter where they looked, nothing…no one had that much liquor. Calling all over the nation, they finally reached a distributor in Florida that said "There's only one guy who can get you what you need. His name is Haskell, and he's an old bootlegger who runs an operation out of the Twin Cities." One phone call to Benny Haskell and it was clear he had what they needed. They were off to Minneapolis: two pilots, Armand Crump, a bag of money, and a B-17 bomber.
Landing the B-17 on a dirt air strip at Honeywell, Armand met a truck that brought him to Benny Haskell's warehouse. After correctly answering Benny's loaded question of "Are you fighting men?", Armand was presented with two milk trucks fully loaded with $5,000 worth of liquor at wholesale price. With the plane weighed down with bottles, they had to start takeoff from the very back of the runway, narrowly skimming a cornfield as they pulled up.
Back in El Paso, the war's biggest liquor run hit a snag: the booze wasn't on the lading, which listed everything that boards the planes to ensure proper weight distribution. After some quick thinking and several winks, the planes lined up for final inspection with $5,000 in liquor hidden in their airframes. Off to Kearney, Nebraska, the final staging area before heading to the Pacific.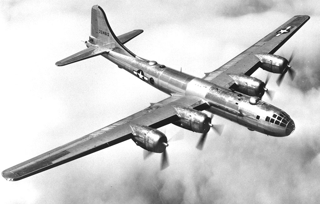 Armand was in the Officer's Club in Kearney, Nebraska when the news broke—Japan had surrendered. Armand ran out to the flight line to see celebrating mechanics opening up the bombers to get at the hidden liquor, snatching a few bottles before MPs came in to guard the planes. The war's biggest liquor run stopped there in Kearney, Nebraska. Armand's squadron never flew to the Pacific and never fought the Japanese, as they'd trained for three years to do. Finally, the war was over.
Who knows if any of the B-29s from Biggs Field in El Paso still exist. But if you happen to find one, and you know where to look, you just might find a bottle of well-aged whiskey…courtesy of Haskell's.