October 5, 2019

Should our wine tastes change as the seasons do? Ted Farrell explains why the answer is "yes".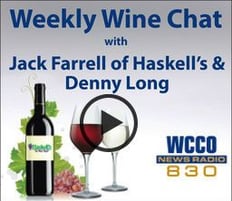 Here are the wines mentioned in the segment:
Fuller bodied Chardonnay for cooler fall weather - Fog Mountain Chardonnay or Projection Chardonnay. They have more oak, are more robust.
Red wine to pair with a pot roast - Zinfandel from California, Cotes-du-Rhone (blends of Grenache, Syrah and Mourvedre) or a Crozes-Hermitage (step up from a Cotes-du-Rhone with a bit more Grenache).
Wine to pair with a bowl of chili: a bigger more robust wine like a red Zinfandel or a Spanish Garnacha - El Circo. The El Circo Tempranillo or Fog Mountain Field Blend would also be great choices. A Field Blend is an old way of blending where the winemaker crushes the varietals together and then blends - a true kitchen sinkblend.
Malbec can pair with chili if there is not too much spice in the food - Aguaribay is our #1 seller! Flechas de los Andes, its big brother is a tooth stainer that can hold its own with a big, bold bowl of chili.
Chilean winery mentioned: Cousino Macul has had some import problems. We have a low inventory, if any.
---
September 14, 2019

What pressing questions do you have on the wine industry? Jack Farrell opens up the mailbag to provide some answers.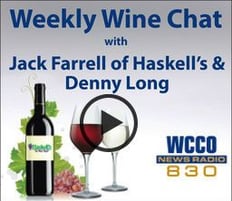 Here are the wines mentioned in the segment:
Malbec to pair with BBQ - Aguaribay Malbec (owned by the Rothschild Family) or Catena
PraVinera Pinot Noir - his pick for a very affordable, everyday Pinot Noir from California
Rosé from Provence - Mado en Provence (comes in a beautiful, reusable bottle with a glass stopper that you can reuse for vinegarette or water)
5 things to look for in wine:
color (clarity, not murky)
aroma (does it smell like wine - not vinegar)
bouquet (does it smell like the grape it is supposed to)
taste (does it taste good)
after taste (what kind of taste does it leave in your mouth after you swallow your sip)
Sancerre - Sauvignon Blanc that has gone to college. His favorite wine to serve as an aperitif.
His favorite wine - red or white wine from Burgundy (in his opinion, the greatest expression of Chardonnay and Pinot Noir in the world)
Rosé - would be excellent to serve with Thanksgiving dinner
---
September 7, 2019

Need a wine for a wedding? What about a holiday party? How about a housewarming gift? Jack Farrell tells us about styles that can cover all of those occasions and many more.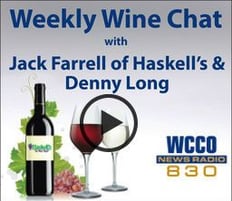 Here are the wines mentioned in the segment:
House Warming - Cabernet or Bordeaux so they can put it away for a few years and it will age well.
Dinner Party - sparkling wine or port for desert. Vegan dinner party - Grenache rosé from the Rhone Valley or a White Bordeaux.
Shower or Brunch - Prosecco, Sancerre Moscato
Summer Soirée - Rosé
Tailgate/BBQ - Sparkling rosé / cremant (sparkling wine from France outside of Champagne), try pairing dry sparkling wine with chips - salty and acid go great together. Red blends, Malbec, Syrah and Zinfandel are great choices as well.
Wedding Gift - He gives 3 bottles of wine: Sparkling, Bordeaux, and a Port along with a note about opening the sparkling wine for the 1st anniversary (when the relationship is still a bit bubbly and effervescent). The Bordeaux should be opened on the 5th anniversary (as the relationship has matured and developed just like the Bordeaux) and the Port for the 10 year anniversary (as the relationship has lasted long like a port and you have a solid base established).
Cocktail Wine - Pinot Grigio
Don't know what the host is serving? Bring a Spanish Tempranillo.
Best Overall Gift - Red Bordeaux or Sparkling Rosé
---
August 31, 2019

What should you be aware of when tasting wine? Jack Farrell describes the attributes that make wines distinct from one another.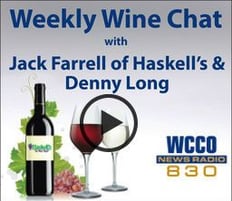 Here are the wines mentioned in the segment:
5 things people look for when scoring and tasting a wine: Color, Aroma, Bouquet, Taste, After Taste.
5 red wines he suggests to pick up to experience and evaluate the 5 attributes of wines:
Pinot Noir - a lesson in acidity and his favorite type of wine! PraVinera Pinot Noir is his go-to, everyday Pinot Noir.
Cabernet Sauvignon - gives you a lesson in tannin (puckery taste after you swallow, similarly to tea). His go-to is Angels Landing Cabernet - a great bargain!
Zinfandel - displays alcohol the best in red wines. Old Vine Zinfandels produce less fruit but fruit is richer.
Malbec - one of the best wines to try to understand the body of a wine. Aguaribay Malbec is his favorite (owned by the Rothschild family from Bordeaux).
Syrah - one of the best wines to try to understand the body of a wine.
---
August 24, 2019

Food is always a big part of the MN State Fair. But wine is as well. Jack Farrell talks about the history of wine of the Great Minnesota Get-Together.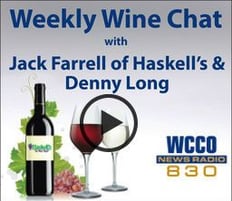 Here are the wines mentioned in the segment:
Jack spoke about wine and the Minnesota State Fair. Wines have been judged as an agricultural product at the Fair for 32 years and Jack has judged all 32 years! A group of home winemakers called the Purple Foot wine club had a law changed so the fair could serve alcohol higher than 3.2% beer just so their wines could be judged.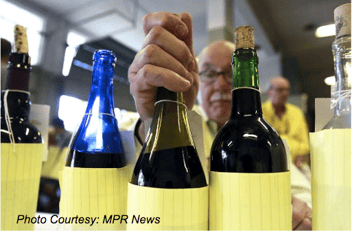 The most interesting wine this year, in his opinion, was a horseradish wine. In years past, an earthworm wine and an oak leaf wine have been "interesting."
Vitis Vinifera - wines made from grapes specifically grown to make wine (Cabernet, Merlot, etc.). The U of M wines that he mentioned (Frontenac, La Crescent, and Marquette) were created for our cold weather climate.
Denny asked about a White Merlot, it is actually a pink wine not a red wine.
---
August 17, 2019

Jack Farrell is contacting us from the Pacific Northwest this week. He's in the Seattle area to taste an assortment of wines made in Washington State. How did this area become fertile ground for the industry?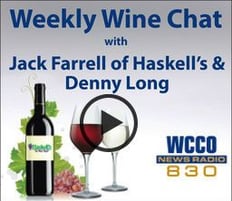 Here are the wines mentioned in the segment:
Jack called in from Seattle, he was at the barrel Auction for Washington wines - the wines were world class. Blending wines from the new world and the old world. The new technologies he witnessed and heard about are very exciting for the wine world.
Chateau Ste Michelle Winery is the area's pioneer in the wine industry, it truly is one of the most beautiful wineries in the world.
They have partnered with Loosen in Germany for Rieslings
Partnered with Antinori in Italy and have amassed quite a few awards for their wine, Col Solare (Antinori being the winery that produces Tignanello - an award winning super Tuscan that is highly sought after and very highly regarded much like Chateau Lafite in Bordeaux).
J & M Cellars is a winery that Haskell's does not yet carry. They are fermenting Grenache in an amphora jug (big clay pots with a tapered bottom). The wine still has another year to go, however, what Jack tasted was wonderful right now.
Washington produces very good Bordeaux varietals: Cabernet, Merlot, Petite Verdot, Malbec and Cabernet Franc.
They produce Viognier that is almost as good as European wineries.
One of their flagship wine types is a GSM (Grenahce, Syrah, Mourvedre) blend mirrored after Cotes-du-Rhone blends.
They produce great Cabernet Franc (Chateau Cheval Blanc, one of the great wines of the world, is almost 100% Cab Franc).
---
August 10, 2019

It's one of the most well-established wine regions in the world, but there isn't a bad time to get reacquainted with the Rhone Valley. Jack Farrell goes through the variety of styles produced in this Southern France region.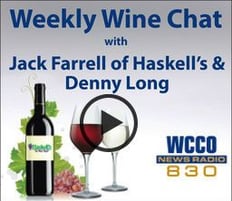 Here are the wines mentioned in the segment:
Cotes-du-Rhone Red Wines - Great, simple, every day drinking wines! In fact, this is what he uses as his house wine. They are mixtures of Grenache and Syrah that are easy to pair with food.
Viognier - A white wine varietal from the Rhone region (one of the most overlooked grapes, in his opinion).
Hermitage - A top wine from the northern Cotes-du-Rhone.
Crozes-Hermitage - An introduction to Hermitage without spending a lot.
Cote-Rotie - The other top wine from the northern Cotes-du-Rhone.
Chateauneuf-du-Pape - The top wine from the southern Cotes-du-Rhone.
Tavel Rose Wines - his favorite!
Vacqueryas - One of the Crus of the Cotes-du-Rhone, it is perfect for beefy hearty dishes.
He also talked about reading wine labels. Watch Jack talk about how to decipher them here!
---
August 3, 2019

When you think of wine-producing countries, we know the first ones that come to mind. What about New Zealand? Jack takes some time to discuss the industry in this southwestern Pacific Ocean island country.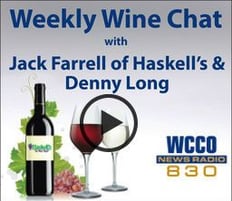 Here are the wines mentioned in the segment:
New Zealand produces mostly Sauvignon Blanc but also some Chardonnay, Pinot Gris, Riesling and Chenin Blanc.
Cloudy Bay was declared the best Sauvignon Blanc in the world in 1985!
For red wine lovers, the Marlborough region is growing some very luscious Pinot Noir wines as well!
Silver Beach Sauvignon Blanc - Jack's favorite Sauvignon Blanc from New Zealand.
Kim Crawford - one of the pioneers of the screw cap.
Calvados - Denny asked about an old bottle that he recently found. It's an incredible apple brandy that tastes like 1,000 apples popped right in your mouth!
---
July 27, 2019

Have you ever heard of Sancerre wine? Sauvignon Blanc enthusiasts have. Why is this in the running for the best of this variety? Jack Farrell lets us know.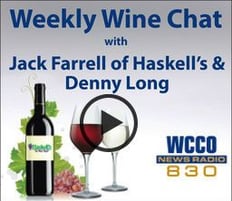 Here are the wines mentioned in the segment:
Sancerre is 100% Sauvignon Blanc produced in the Loire Valley, the breadbasket of France. Known as the white wine of Paris, it is truly a Sauvignon Blanc with a college education.
Grown on the east side of the Loire River, it gets its complex, unique and weighty character from the chalky subsoil it is grown in (much like the wines of Chablis and Champagne).
On the other side of river is Pouilly-Fume, which is much more acidic and not as complex as Sancerre.
It is most often aged in stainless steel vats and pairs with so many summer dishes - especially shrimp scampi.
---
July 20, 2019

What wine goes well with various entrees? Jack Farrell tells us about the flexibility of Chianti. Plus, what does he say regarding putting ice in or chilling wine?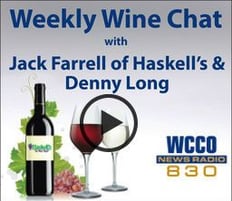 Here are the wines mentioned in the segment:
Purchase stones that freeze so they won't melt and water down your wine! But, don't feel badly about putting ice into your wine - you're the one drinking it after all! Red wines should be served at about 60 degrees, so a little chill is perfectly acceptable.
Chianti, a versatile wine that can pair with dishes ranging from pork chops to bolognese to chicken. You can find Chianti for $10 bottle and up to $100 a bottle. It's great for picnics and warm weather - put it in the cooler and enjoy it like Beaujolais.
In the 60's and 70's winemakers were experimenting with recipes and created Super Tuscans. Born in the Chianti region, they might be 100% Cabernet, 100% Merlot or a mixture of anything else but they are not certified Chianti. They usually are not produced from Sangiovese but if they do, they only use for blending purposes. They are the most expensive wines to come out of the region.

Look for the Gallo Nero, the black rooster stamp on the bottles of Chianti Classico.
Types of Chianti:
Chianti Classico spends almost a year in the cellar before bottled and sold.
Chianti Riserva spends two years in the cellar before bottled and sold.
Villa Cafaggio - Jack used to be an owner of this vineyard years ago. He spoke of the town of Greve, which has a dispensary in the middle of town and where you can try many different Chiantis an ounce or two at a time!
---
July 13, 2019

Jack has discussed the pairing of Malbec wine and barbecue in the past. But how much do you know about the style's original home? He takes us on a tour of Cahors, France during this episode.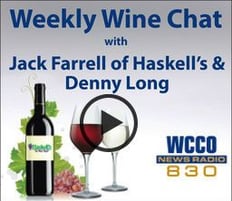 Here are the wines mentioned in the segment:
Jack's favorite wine to pair with BBQ is Malbec! His favorite being those that are produced in Cahors, France.
Cahors produces Malbec aka the black wine of Cahors. It gets this nickname because it is the darkest red wine produced in France. Cahors Malbec is very different from the Malbecs produced in Argentina - they are big and bold.
Chateau Lagrezette - The Malbec that was perfectly paired with bbq ribs basted in sauce (sweet, spicy and hot).
Paul Hobbs, a Californian winemaker, owns property in Cahors (unfortunately, Haskell's does not carry his Cahors wine).
---
July 6, 2019

Last time out, Jack Farrell discussed the history of wine in America. But what about the current status of the industry? He tackles that during this edition of the program.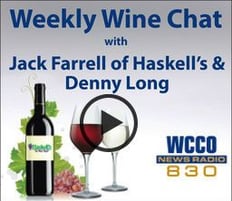 Here are the wines mentioned in the segment:
In the founding years of our country, Madeira was one of most popular wines to drink. It is a fortified wine from the Island of Madeira, Spain.
California, Oregon, Washington, Texas, Ohio and Michigan are the largest wine producing states. But don't count out Minnesota Wineries - we have a ton! Read about some of them here.
In 1976 in Paris, a wine competition known as the Judgement of Paris, blind tasted French and American wines. To everyone's surprise, an American wine won in both the red and the white categories:
Stags Leap Wine Cellars Cabernet Sauvignon
---
June 29, 2019

Ahead of this week's holiday, Jack Farrell dives into several topics. They include America's history with wine and what to look for in a Sangria.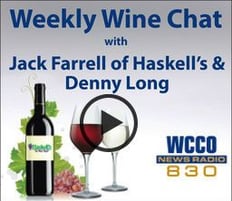 Here are the wines mentioned in the segment:
Ted's 4 for $40 on the 4th of July (offer only valid through July 4, 2019)
Second Growth Rose from Willamette Valley (Pinot Noir Rose)
Projection Chardonnay from California (shrimp on the bbq)
Lakegirl Zinfandel from Lodi, California (pair with ribs or burgers)
Fog Mountain Cabernet Sauvignon
Sangria Recipes
Red Sangria - Beaujolais Nouveau, 6 oz club soda, 2 oz brandy, 2 oz triple sec, sliced orange, lemon, lime and green apple. Serve over ice.
White Sangria - Haskell's Maison Blanc, 6 oz club soda, 2 oz lemoncello, 2 oz brandy, sliced peach, apple, lemon and tarragon. Serve over ice.
Rose Sangria - Domaine Fazi, 6 oz club soda, 1-2 oz rum, 1-2 oz triple sec, 1-2 oz lemonello, mint and strawberries. Serve over ice.