March 28, 2020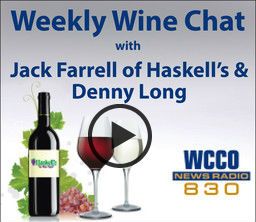 Are you missing that fine dining experience lately? Jack Farrell lets us know how we can turn home cooking into a more upscale experience.
Here are the wines and food pairing discussed in this segment
Aguaribay Malbec with Ribs
Second Growth Pinot Noir with Salmon
Menzione Primitivo with Mostaccioli
Hitch Chardonnay with Chicken
---
March 21, 2020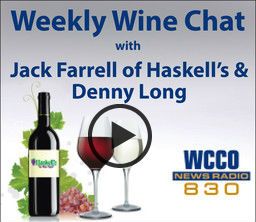 Haskell's Wine and Spirits has been in business for over 80 years. But that isn't the beginning of the story. Jack Farrell takes us through time, with a look at the man who would go on to found the legendary local franchise.
---
March 14, 2020
St. Patrick's Day is this week. What spirits should you have as we celebrate the history of Ireland? Jack Farrell takes this to heart and provides some suggestions.
Spirits discussed in this segment
March 7, 2020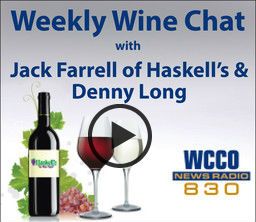 It's one of the oldest wines in the history of the industry. But do you know about Vougeot? Jack Farrell tells us about the backstory of this wine that dates back to the 10th Century, as well as the French monks that started the legendary vineyard.
Get tickets to Tour de Terroir Tasting
---
February 29, 2020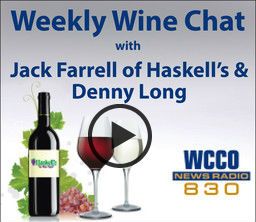 Jack Farrell gets personal this week. He takes some time to explain why he loves the world of wine and this industry he's chosen to devote his career to.
---
February 22, 2020
Saturday is National Margarita Day. Jack Farrell is in the spirit, taking a detour from wine to tell us about the main ingredient in this concoction...tequila.
Tequila discussed in this segment
---
February 15, 2020
As we get into the post-Valentine's Day swoon, what should you do with all that chocolate? Jack Farrell offers some wines that will pair best with those sweetheart treats.
Wine discussed in this segment
Flower's Camp Meeting Ridge Chardonnay
---
February 8, 2020
There are so many questions WCCO listeners have about wine. Jack Farrell takes time to answer them during this show.
Here is the Valentine's Gift discussed in this segment
---
February 1 , 2020
Wondering what to serve for the Big Game or your next party? Listen to Jack Farrell's Wine Chat to hear some of his favorite selections.
Here are the wines discussed in this segment
---
January 25, 2020
How much difference is there between classic (Old World) and current (New World) wines? Listen to Jack Farrell's Wine Chat to learn more.
Here are the wines discussed in this segment
Touraine Des Gaillot Sauvignon Blanc
---
January 18, 2020
Trying to keep the snow and Winter chill out? Chatauneuf-du- Pape could be the answer for that. Jack Farrell explains why.
Here are the wines discussed in this segment
---
January 11, 2020
Favorite winter wines and what to pair with them. Jack Farrell discuss how as the seasons change so should your wine and food selections.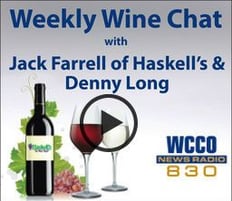 Here are wines and food discussed in this segment
Amicone Catina Di Ora serve with Italian Bread Soup
CDP Domaine La Fond serve wild boar or venison
Thanisch Reisling serve with smoked meat or Bean Soup
La Forge Viognier serve with chicken with roasted vegetables
---
January 4, 2020
Jack Farrell's wine predictions for 2020!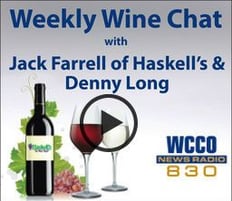 ---
December 28, 2019

It is the staple of New Years' Eve. But do we take champagne for granted? Jack Farrell takes this last edition of 2019 to discuss the French wine designated for celebration.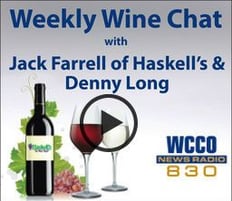 Here are the wines and gifts mentioned in the segment:
Champagne Houses:
Louis Roederer Cristal - one of the most expensive Champagnes. Comes bottled in a clear bottle instead of a dark green glass bottle due to a Russian Czar's fears over being served a poisoned wine!
Pol Roger - Winston Churchill had a half glass of Pol Roger on his breakfast tray!
Louis Bouillot Brut or Rose - each under $20!
Dryness Levels of Champagne:
Brut - Driest
Extra Dry - Medium Dry
Sec - Sweetest
Shop our sparkling wine selection online!
Jack's favorite Tavel Rose - had with a salad or meatloaf!
---
December 21, 2019

Christmas is only a few days away. Are you still shopping for gifts? Let Jack Farrell offer up some ideas. He talks about some options, including how to set up referrals for wine baskets.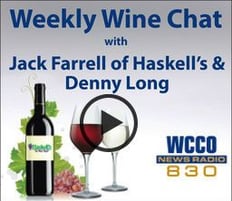 Here are the wines and gifts mentioned in the segment:
Give a great corkscrew - Boomerang Corkscrew
Atlas of Wine - 8th Edition by Hugh Johnson
Magnum of Champagne - Louis Roederer, Veuve Clicquot or Louis Bouillot -(Louis Bouillot is not available in a magnum format)
Cranberry Mimosas with Prosecco
Rioja - Marques de Murrieta or Marques de Caceres
Cabernet - Oakville East by Elliot Stern (from North Dakota/Minnesota) - serve with Christmas Dinner with a standing rib roast. Amiral de Beychevelle 2015 - serve with rack of lamb or try a Santenay or Savigny les Beaune Henri de Villamont or Marchand or Bouchard.
Flowers Camp Meeting Chardonnay
Port - Dow 20 year old, Graham 20 year old, Fonseca LBV (serve with Stilton Cheese, walnuts)
Voltaire Vouvray - serve with turkey
Brouilly Chateau de Perrieux - a Beaujolais that tastes like a Burgundy!
---
December 14, 2019

What should you get for the wine lovers in your social circles? In a continuation from last week's progam, Jack Farrell is back with more gift ideas to share during this holiday season.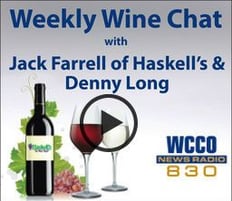 Here are the wines mentioned in the segment:
Louisa's Liqueur (similar to Tia Maria or Kahlua) coffee, pecan and caramel flavors (try topping a wheel of Brie with it!)
Chirpy Tops - available in all stores! Wine pourer that chirps when you pour from the bottle.
Wine opener - Vino Drill - available in all stores (battery operated wine opener).
Jack Rudy's Old Fashioned Kit - available in all stores!
---
December 7, 2019

The holiday shopping season is well underway. Jack Farrell gives us some gift ideas (other than the wine itself) for the wine lovers in your inner circles.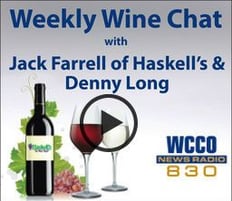 Here are the wines (and gifts) mentioned in the segment:
Gift ideas for the wine lover - glassware - a gift for all wine drinkers (stemware, plastic, Chamapgne flutes). Wine totes, wine books or wine subscriptions (Wine Spectator, Wine Enthusiast, Wine Advocate). Wine carafe (decanter), wine openers (he suggests passing on the wing-styled corkscrews or the CO2 style openers), wine chillers, or wine aerators. "Wine Away" - the best wine stain remover!
Gift certificates - the gift they won't return!
---
November 30, 2019

What should you do with those Thanksgiving leftovers? Jack Farrell provides one of his family's tried and true ideas. Plus, he tells us about the popularity of Port wines.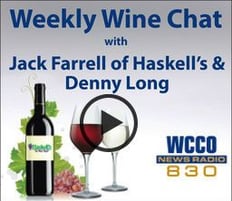 Here are the wines mentioned in the segment:
Shepherd's Pie recipe for Thanksgiving leftovers:
Lay the leftover stuffing on the bottom of a baking dish, layer the turkey on top of that, and the mashed potatoes on top. Pour the gravy over the top, bake in the oven at 350 degrees for 30 - 35 minutes.
Port Wines: Pair with Stilton or Roquefort Cheese
Warre, Dow, Graham, Croft, Fosneca, Royal Oporto- English owned Port houses. Ruby Port is the sweetest of all Ports and is the #1 aperitif in France.
Reseve Tawny Port - aged at least 7 years.
LBV (Late Bottled Vintage) Port is leftover vintage port - quite a bargain!
Vintage Port - ages very, very well (for decades)!
---
November 23, 2019

Need help brining your Thanksgiving turkey? Jack Farrell provides a simple recipe to make sure your guests can enjoy their holiday feast. Plus, he reviews the French auction he attended last weekend.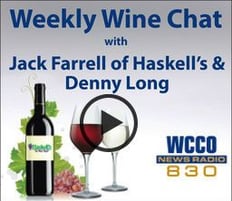 Here are the wines mentioned in the segment:
2019 Hospices de Beaune Auction was up 10-15% over a year ago. The 2019 vintage compares to 2009, a very good vintage!
Turkey basting recipe: Baste a few times while turkey is cooking
1/3 orange juice
1/3 melted butter
1/3 white wine
White Wines for Thanksgiving Dinner (especially with turkey):
Les Lys Vouvray - apricot, almonds, soft and round |100% Chenin Blanc
Voltaire Vouvray - a tad more dry | 100% Chenin Blanc
Riesling - a crowd pleaser, low in alcohol and soft enough for a traditional Thanksgiving dinner
Red Wines for Thanksgiving Dinner: Southern Burgundy:
Savigny les Beaune
Santenay
Look for these wines from the following producers: Villamont, Marchand, Bouchard
Aperitif:
Beaujolais Nouveau - drink it this year before January 1st and you'll have good luck the following year!
Chateau Pierreaux Brouilly
Louisa's Liquor - Finish up dinner with this delicious caramel/coffee/pecan liqueur!
---
November 16, 2019

Jack Farrell is abroad this week. He explains the big auction in France that he will attend on Sunday. Plus, how does this event effect the wine industry over the next year?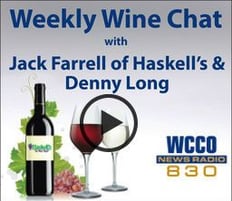 Here are the wines mentioned in the segment:
The hotel that he stays at while in Beaune - Hotel Le Cep
Meursault - A Chardonnay from Burgundy - the most complex, complicated and intriguing Chardonnays, in his opinion.
The Boisset Winery - a must see! They put a vineyard on top of the winery and in his opinion, it is in the top 3 wineries in the world, architecturally!
Read more about the Hospices de Beaune Wine Auction in our blog post!
---
November 9, 2019

How much do you know about Beaujolais wine? Jack Farrell gives us a primer on this style of wind that primarily consists of Gamay grapes.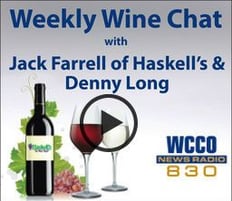 Here are the wines mentioned in the segment:
Types:
Beaujolais Nouveau (drink within one year)
Beaujolais
Beaujolais-Village
Crus of Beaujolais (drink 5 or 6 years old)
Brouilly
Moulin-A-Vent
Regnie
Chiroubles
Cote de Brouilly
Chenas
Saint-Amour
Julianas
Morgon
Fleurie
Names to look for in Beaujolais:
Bouchard, Mommessin, Louis Latour, Georges Duboeuf, Jadot
---
November 2, 2019

Hosting a party sometime during the last couple months of 2019? Jack Farrell lets us know what wines fit best with your specific occasion. Plus, how much wine should be available to serve at a wedding?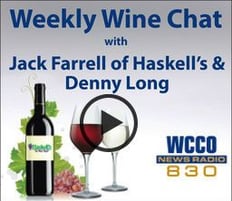 Here are the wines mentioned in the segment:
Check Out Our Party Planning Drink Calculator
Sparkling Wine - 2 glasses per guest if you are having a toast (6 glasses per bottle)
Red & Wine - 9 oz per person - this is excessive but you won't run out! (5 glasses per bottle)
White Wines:
Bourgogne Blanc (Chardonnay) by Louis Latour, Boisset, Marchand, Henri de Villamont
Macon Blanc (Chardonnay)
Saint-Veran (Chardonnay)
Silver Beach Sauvignon Blanc (New Zealand)
Red Wines:
Bourgogne Rouge (Pinot Noir) Vienot, Marchand
---
October 26, 2019

How are tariffs impacting European food and drinks, including French wines? Is there a good Oregon wine that costs under $20? Jack Farrell reaches into his mailbag this week to answer those questions.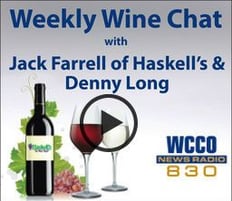 Here are the wines mentioned in the segment:
Denny picked up a bottle of Aguaribay Malbec and loved it!
Beaujolais Nouveau will feel the effects of the new wine tariffs as will Scotch Whiskey.
Oregon Wines under $20:
Second Growth Pinot Noir from Willamette Valley
Willamette Valley Whole Cluster Pinot Noir
Wine for Halloween:
Pinot Gris vs Pinot Grigio: They are the same grape! Flavors will differ depending on where it is grown. Serve with oysters, oily fish like trout or with vegetarian dishes.
France (Alsace) - fleshy and can be on the softer side
Italy - drier with good acidity
United States - exaggerated fruit with less acidity (the 1st one that he tasted was Willakenzie Pinot Gris)
---
October 19, 2019

Are you a hunter? What type of wine goes best with your game of choice? Jack Farrell gives us some ideas.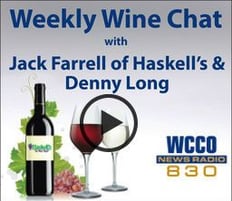 Here are the wines mentioned in the segment:
Venison, elk, moose, or caribou all call for a big, robust red wine. Venison being the most popular in Minnesota, could even be tenderized by marinating it in red wine, try a Sangiovese, Merlot. Zinfandel, Syrah, or a Rhone wine. The only white wine to serve with these types of game is a very dry Riesling from Germany, Ste. Michelle Estate in Washington or Trefethen in California.
Duck - Spanish reds, try the El Circo line of wines (he also mentioned that he makes a Blueberry Bourbon sauce that compliments duck breasts very well).
Blueberry Bourbon Sauce
Ingredients:
1/2 cup Bourbon
1 tbsp vanilla extract
2 shallots (chopped finely)
1/2 cup blueberries
2 tbsp blueberry preserves
1/4 cup chicken stock
Directions:
In a pan, pour bourbon over shallots. Reduce by half and add in the blueberries. Simmer for 5 minutes and add the vanilla and preserves. Simmer. Add chicken stock and continue cooking for an additional 5 minutes. Serve over duck breast and enjoy!
Grouse - full bodied Chardonnay
Quail - light red such as Beaujolais or young Rioja
Boar - claret (Red Bordeaux)
Rabbit - lean, soft, lighter wine such as Cotes-du-Rhone, oakey Chardonnay depending on the sauce or a Viognier (white wine).
Moose - try a Syrah or Sangiovese blend
Amicone - "the poor man's Amarone," would be perfect with any game dish.
---
October 12, 2019

With Fall fully in effect, what wines should you be looking for when it comes to your get-togethers? Jack Farrell gives us some options that pair well with the season.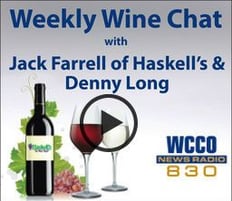 Here are the wines mentioned in the segment:
His favorite white wine for fall: semillon. Try a White Bordeaux, which is primarily Semillon with Sauvignon Blanc blended in. Pair a bottle with with grilled or baked salmon basted with a maple syrup and soy sauce glaze.
Viognier - a white wine from the Rhone Valley that is a great segue from Chardonnay. Try La Forge Viognier, his favorite! Other options are white Cotes-du-Rhones; amazing bargains that should not be overlooked. Try Acantalys, Aigueville, or Rastellains.
Piedmont, Italy - home of Barolo and Barbera (the Cinderella of red wine). Barbera is a perfect choice for fall with its berry and cherry notes. It pairs extremely well with Italian dishes - try it with pasta with red sauce. Dolcetto (the Beaujolais of Italy) a another option. It is a fruity, light wine - wonderful for fall.
Grenache - the friendliest grape type for fall in his opinion. It has a broad appeal and is the principal grape type of Cotes-du-Rhone. Strawberry, berry nose, with a rich aftertaste - pair with pork roast or a venison stew.
GSM - Grenache, Syrah, Mourvedre - pair with your next hearty fall meal be it a bacon cheeseburger or stuffed peppers. Look for this blend from Washington or Cotes-du-Rhone.
---
October 5, 2019

Should our wine tastes change as the seasons do? Ted Farrell explains why the answer is "yes".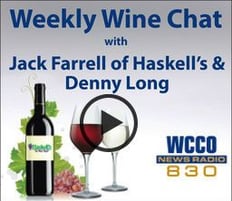 Here are the wines mentioned in the segment:
Fuller bodied Chardonnay for cooler fall weather - Fog Mountain Chardonnay or Projection Chardonnay. They have more oak, are more robust.
Red wine to pair with a pot roast - Zinfandel from California, Cotes-du-Rhone (blends of Grenache, Syrah and Mourvedre) or a Crozes-Hermitage (step up from a Cotes-du-Rhone with a bit more Grenache).
Wine to pair with a bowl of chili: a bigger more robust wine like a red Zinfandel or a Spanish Garnacha - El Circo. The El Circo Tempranillo or Fog Mountain Field Blend would also be great choices. A Field Blend is an old way of blending where the winemaker crushes the varietals together and then blends - a true kitchen sinkblend.
Malbec can pair with chili if there is not too much spice in the food - Aguaribay is our #1 seller! Flechas de los Andes, its big brother is a tooth stainer that can hold its own with a big, bold bowl of chili.
Chilean winery mentioned: Cousino Macul has had some import problems. We have a low inventory, if any.
---
September 14, 2019

What pressing questions do you have on the wine industry? Jack Farrell opens up the mailbag to provide some answers.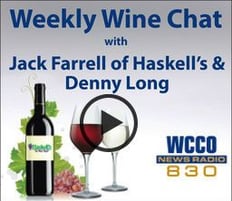 Here are the wines mentioned in the segment:
Malbec to pair with BBQ - Aguaribay Malbec (owned by the Rothschild Family) or Catena
PraVinera Pinot Noir - his pick for a very affordable, everyday Pinot Noir from California
Rosé from Provence - Mado en Provence (comes in a beautiful, reusable bottle with a glass stopper that you can reuse for vinegarette or water)
5 things to look for in wine:
color (clarity, not murky)
aroma (does it smell like wine - not vinegar)
bouquet (does it smell like the grape it is supposed to)
taste (does it taste good)
after taste (what kind of taste does it leave in your mouth after you swallow your sip)
Sancerre - Sauvignon Blanc that has gone to college. His favorite wine to serve as an aperitif.
His favorite wine - red or white wine from Burgundy (in his opinion, the greatest expression of Chardonnay and Pinot Noir in the world)
Rosé - would be excellent to serve with Thanksgiving dinner
---
September 7, 2019

Need a wine for a wedding? What about a holiday party? How about a housewarming gift? Jack Farrell tells us about styles that can cover all of those occasions and many more.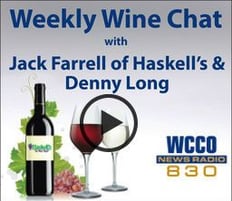 Here are the wines mentioned in the segment:
House Warming - Cabernet or Bordeaux so they can put it away for a few years and it will age well.
Dinner Party - sparkling wine or port for desert. Vegan dinner party - Grenache rosé from the Rhone Valley or a White Bordeaux.
Shower or Brunch - Prosecco, Sancerre Moscato
Summer Soirée - Rosé
Tailgate/BBQ - Sparkling rosé / cremant (sparkling wine from France outside of Champagne), try pairing dry sparkling wine with chips - salty and acid go great together. Red blends, Malbec, Syrah and Zinfandel are great choices as well.
Wedding Gift - He gives 3 bottles of wine: Sparkling, Bordeaux, and a Port along with a note about opening the sparkling wine for the 1st anniversary (when the relationship is still a bit bubbly and effervescent). The Bordeaux should be opened on the 5th anniversary (as the relationship has matured and developed just like the Bordeaux) and the Port for the 10 year anniversary (as the relationship has lasted long like a port and you have a solid base established).
Cocktail Wine - Pinot Grigio
Don't know what the host is serving? Bring a Spanish Tempranillo.
Best Overall Gift - Red Bordeaux or Sparkling Rosé
---
August 31, 2019

What should you be aware of when tasting wine? Jack Farrell describes the attributes that make wines distinct from one another.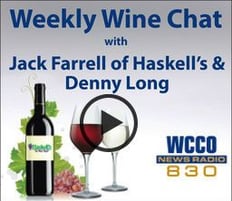 Here are the wines mentioned in the segment:
5 things people look for when scoring and tasting a wine: Color, Aroma, Bouquet, Taste, After Taste.
5 red wines he suggests to pick up to experience and evaluate the 5 attributes of wines:
Pinot Noir - a lesson in acidity and his favorite type of wine! PraVinera Pinot Noir is his go-to, everyday Pinot Noir.
Cabernet Sauvignon - gives you a lesson in tannin (puckery taste after you swallow, similarly to tea). His go-to is Angels Landing Cabernet - a great bargain!
Zinfandel - displays alcohol the best in red wines. Old Vine Zinfandels produce less fruit but fruit is richer.
Malbec - one of the best wines to try to understand the body of a wine. Aguaribay Malbec is his favorite (owned by the Rothschild family from Bordeaux).
Syrah - one of the best wines to try to understand the body of a wine.
---
August 24, 2019

Food is always a big part of the MN State Fair. But wine is as well. Jack Farrell talks about the history of wine of the Great Minnesota Get-Together.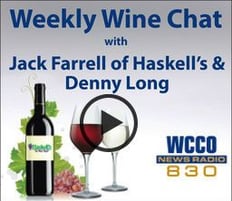 Here are the wines mentioned in the segment:
Jack spoke about wine and the Minnesota State Fair. Wines have been judged as an agricultural product at the Fair for 32 years and Jack has judged all 32 years! A group of home winemakers called the Purple Foot wine club had a law changed so the fair could serve alcohol higher than 3.2% beer just so their wines could be judged.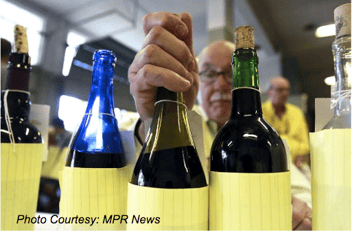 The most interesting wine this year, in his opinion, was a horseradish wine. In years past, an earthworm wine and an oak leaf wine have been "interesting."
Vitis Vinifera - wines made from grapes specifically grown to make wine (Cabernet, Merlot, etc.). The U of M wines that he mentioned (Frontenac, La Crescent, and Marquette) were created for our cold weather climate.
Denny asked about a White Merlot, it is actually a pink wine not a red wine.
---
August 17, 2019

Jack Farrell is contacting us from the Pacific Northwest this week. He's in the Seattle area to taste an assortment of wines made in Washington State. How did this area become fertile ground for the industry?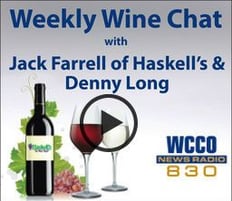 Here are the wines mentioned in the segment:
Jack called in from Seattle, he was at the barrel Auction for Washington wines - the wines were world class. Blending wines from the new world and the old world. The new technologies he witnessed and heard about are very exciting for the wine world.
Chateau Ste Michelle Winery is the area's pioneer in the wine industry, it truly is one of the most beautiful wineries in the world.
They have partnered with Loosen in Germany for Rieslings
Partnered with Antinori in Italy and have amassed quite a few awards for their wine, Col Solare (Antinori being the winery that produces Tignanello - an award winning super Tuscan that is highly sought after and very highly regarded much like Chateau Lafite in Bordeaux).
J & M Cellars is a winery that Haskell's does not yet carry. They are fermenting Grenache in an amphora jug (big clay pots with a tapered bottom). The wine still has another year to go, however, what Jack tasted was wonderful right now.
Washington produces very good Bordeaux varietals: Cabernet, Merlot, Petite Verdot, Malbec and Cabernet Franc.
They produce Viognier that is almost as good as European wineries.
One of their flagship wine types is a GSM (Grenahce, Syrah, Mourvedre) blend mirrored after Cotes-du-Rhone blends.
They produce great Cabernet Franc (Chateau Cheval Blanc, one of the great wines of the world, is almost 100% Cab Franc).
---
August 10, 2019

It's one of the most well-established wine regions in the world, but there isn't a bad time to get reacquainted with the Rhone Valley. Jack Farrell goes through the variety of styles produced in this Southern France region.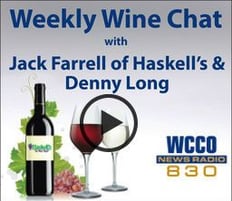 Here are the wines mentioned in the segment:
Cotes-du-Rhone Red Wines - Great, simple, every day drinking wines! In fact, this is what he uses as his house wine. They are mixtures of Grenache and Syrah that are easy to pair with food.
Viognier - A white wine varietal from the Rhone region (one of the most overlooked grapes, in his opinion).
Hermitage - A top wine from the northern Cotes-du-Rhone.
Crozes-Hermitage - An introduction to Hermitage without spending a lot.
Cote-Rotie - The other top wine from the northern Cotes-du-Rhone.
Chateauneuf-du-Pape - The top wine from the southern Cotes-du-Rhone.
Tavel Rose Wines - his favorite!
Vacqueryas - One of the Crus of the Cotes-du-Rhone, it is perfect for beefy hearty dishes.
He also talked about reading wine labels. Watch Jack talk about how to decipher them here!
---
August 3, 2019

When you think of wine-producing countries, we know the first ones that come to mind. What about New Zealand? Jack takes some time to discuss the industry in this southwestern Pacific Ocean island country.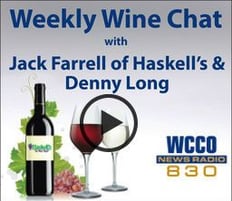 Here are the wines mentioned in the segment:
New Zealand produces mostly Sauvignon Blanc but also some Chardonnay, Pinot Gris, Riesling and Chenin Blanc.
Cloudy Bay was declared the best Sauvignon Blanc in the world in 1985!
For red wine lovers, the Marlborough region is growing some very luscious Pinot Noir wines as well!
Silver Beach Sauvignon Blanc - Jack's favorite Sauvignon Blanc from New Zealand.
Kim Crawford - one of the pioneers of the screw cap.
Calvados - Denny asked about an old bottle that he recently found. It's an incredible apple brandy that tastes like 1,000 apples popped right in your mouth!
---
July 27, 2019

Have you ever heard of Sancerre wine? Sauvignon Blanc enthusiasts have. Why is this in the running for the best of this variety? Jack Farrell lets us know.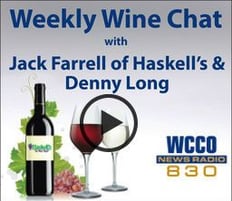 Here are the wines mentioned in the segment:
Sancerre is 100% Sauvignon Blanc produced in the Loire Valley, the breadbasket of France. Known as the white wine of Paris, it is truly a Sauvignon Blanc with a college education.
Grown on the east side of the Loire River, it gets its complex, unique and weighty character from the chalky subsoil it is grown in (much like the wines of Chablis and Champagne).
On the other side of river is Pouilly-Fume, which is much more acidic and not as complex as Sancerre.
It is most often aged in stainless steel vats and pairs with so many summer dishes - especially shrimp scampi.
---
July 20, 2019

What wine goes well with various entrees? Jack Farrell tells us about the flexibility of Chianti. Plus, what does he say regarding putting ice in or chilling wine?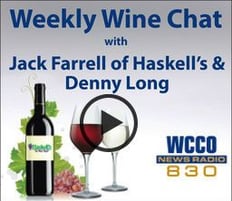 Here are the wines mentioned in the segment:
Purchase stones that freeze so they won't melt and water down your wine! But, don't feel badly about putting ice into your wine - you're the one drinking it after all! Red wines should be served at about 60 degrees, so a little chill is perfectly acceptable.
Chianti, a versatile wine that can pair with dishes ranging from pork chops to bolognese to chicken. You can find Chianti for $10 bottle and up to $100 a bottle. It's great for picnics and warm weather - put it in the cooler and enjoy it like Beaujolais.
In the 60's and 70's winemakers were experimenting with recipes and created Super Tuscans. Born in the Chianti region, they might be 100% Cabernet, 100% Merlot or a mixture of anything else but they are not certified Chianti. They usually are not produced from Sangiovese but if they do, they only use for blending purposes. They are the most expensive wines to come out of the region.

Look for the Gallo Nero, the black rooster stamp on the bottles of Chianti Classico.
Types of Chianti:
Chianti Classico spends almost a year in the cellar before bottled and sold.
Chianti Riserva spends two years in the cellar before bottled and sold.
Villa Cafaggio - Jack used to be an owner of this vineyard years ago. He spoke of the town of Greve, which has a dispensary in the middle of town and where you can try many different Chiantis an ounce or two at a time!
---
July 13, 2019

Jack has discussed the pairing of Malbec wine and barbecue in the past. But how much do you know about the style's original home? He takes us on a tour of Cahors, France during this episode.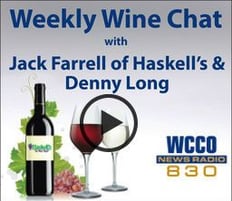 Here are the wines mentioned in the segment:
Jack's favorite wine to pair with BBQ is Malbec! His favorite being those that are produced in Cahors, France.
Cahors produces Malbec aka the black wine of Cahors. It gets this nickname because it is the darkest red wine produced in France. Cahors Malbec is very different from the Malbecs produced in Argentina - they are big and bold.
Chateau Lagrezette - The Malbec that was perfectly paired with bbq ribs basted in sauce (sweet, spicy and hot).
Paul Hobbs, a Californian winemaker, owns property in Cahors (unfortunately, Haskell's does not carry his Cahors wine).
---
July 6, 2019

Last time out, Jack Farrell discussed the history of wine in America. But what about the current status of the industry? He tackles that during this edition of the program.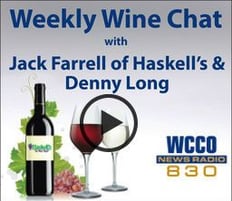 Here are the wines mentioned in the segment:
In the founding years of our country, Madeira was one of most popular wines to drink. It is a fortified wine from the Island of Madeira, Spain.
California, Oregon, Washington, Texas, Ohio and Michigan are the largest wine producing states. But don't count out Minnesota Wineries - we have a ton! Read about some of them here.
In 1976 in Paris, a wine competition known as the Judgement of Paris, blind tasted French and American wines. To everyone's surprise, an American wine won in both the red and the white categories:
Stags Leap Wine Cellars Cabernet Sauvignon
---
June 29, 2019

Ahead of this week's holiday, Jack Farrell dives into several topics. They include America's history with wine and what to look for in a Sangria.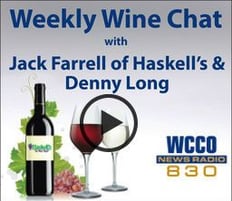 Here are the wines mentioned in the segment:
Ted's 4 for $40 on the 4th of July (offer only valid through July 4, 2019)
Second Growth Rose from Willamette Valley (Pinot Noir Rose)
Projection Chardonnay from California (shrimp on the bbq)
Lakegirl Zinfandel from Lodi, California (pair with ribs or burgers)
Fog Mountain Cabernet Sauvignon
Sangria Recipes
Red Sangria - Beaujolais Nouveau, 6 oz club soda, 2 oz brandy, 2 oz triple sec, sliced orange, lemon, lime and green apple. Serve over ice.
White Sangria - Haskell's Maison Blanc, 6 oz club soda, 2 oz lemoncello, 2 oz brandy, sliced peach, apple, lemon and tarragon. Serve over ice.
Rose Sangria - Domaine Fazi, 6 oz club soda, 1-2 oz rum, 1-2 oz triple sec, 1-2 oz lemonello, mint and strawberries. Serve over ice.